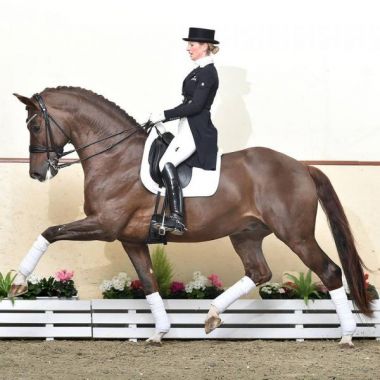 2019 was once again Vitalis' year. In fall 2019 alone, eleven of his sons were licensed in Germany, four of which were also awarded premiums in Hanover, Westphalia and Mecklenburg. This brings the number of Vitalis' licensed sons to 33, with Valverde/Eva Möller, Champion Stallion, German Champion and fourth at the World Championships for young dressage horses, Villeneuve/Dorothee Schneider, Reserve Champion, Vice World Champion, third at the German Championships and St. Georges Special Winner and Vaderland, Westphalian Reserve Champion, clearly standing out. Vayron/Helen Langehanenberg was placed in the Burg Cup final and Valencia AS/Fabienne Müller-Lütkemeier was placed at the CHIO Aachen.
The very modern and big moving Vitalis is in the fast lane in breeding and in sport. He was first Reserve Champion of the main NRW licensing in 2009, dominated the dressage index of his stallion performance test in 2010 in Warendorf and, at an early age, notched up wins and placings in dressage horse classes, amongst others at the Dutch Stallion Championships and at the World Championships of five-year-old dressage horses in 2012. In the same year, he was sold to Charlotte Jorst in the USA and with her, was placed in the finals of the World Championships of six-year-old dressage horses, shortly after he dominated the US championship in his age-group. With record marks of 10.0 for trot and 9.8 for canter, he was clearly ahead of the other competitors. Since then he has been trained up to advanced level and is successful up to Intermediate I.
Vitalis son, Valverde, won the 2019 Bundeschampionate for five-year-old dressage horse stallions under rider Eva Möller ( 9.00 9.50 9.50 9.00 9.50 ---- 9.30), and the same year at the Hanoverian Stallion Licensing, Vitalis had 6 sons represented and 5 were licensed. One son was named as crowd favorite and another fetched the second-highest price at auction by Gaston Glock for 720,000 EUR. Valverde won the 2020 Bundeschampionat Qualifier (9.0) and placed fourth in the final (8.5). Son Va' Pensiero won both the qualifier (9.20 total score) and final (9.5 total score) of the 2020 Bundeschampionat in the three-year-old class.
Other successful offspring include Villeneuve, who is also a licensed stallion, qualified for the Nuremberg Burg Cup with Dorothee Schneider with a score of over 77 percent and finished eighth in the final after coming second in the preliminary class. Valverde NRW secured his third title at the Westphalian Championships, came fourth at the German Championships and was selected for the World Championships for young dressage horses, which, however, could not take place due to the coronavirus pandemic. Vayron won the international Small Tour in Neumünster with Helen Langehanenberg with over 75 percent. Vamos Amigos was placed with Cathrine Dufour/DEN in the Grand Prix Tour of Aarhus/DEN. The licensed stallion Vaderland was bronze medalist at the Oldenburg Regional Championships, Violetta D was silver medalist at the Southern German Championships. Valencia AS/Fabienne Müller-Lütkemeier was placed at the CHIO in Aachen. Van der Veen was also victorious in Small Tour with Carl Hedin/SWE. In 2016, Victoria's Secret became World Champion in Ermelo after winning the German Championships the year before. The Westphalian Champion Mare Vienna and the Rhineland Champion Mare Virginia K stand out amongst the 60 state premium mares. Vitalis' foals often reach top prices: the colt Vardy was sold for 120,000 Euros at the Oldenburg Elite Auction. Auctioned for 53,000 Euros, VIP was second top price at the Summer Mixed Sales in Vechta.
With his first crops, Vitalis caused a stir: In Rhineland in 2014, his daughter Virginia K was the winner of the elite show and at the Westphalian Week, all five of the three-year-old mare and gelding finalists were offspring of Vitalis. At the autumn elite auction in Münster-Handorf, the four star horses were offspring of Vitalis. The two highest offers were 200.000 euros. To date, 14 of his sons have been licensed, including Veneno, who was sold for 310.000 euros in Vechta in 2014. 2015 brought another rich crop: His daughter Victoria's Secret was German national champion of the four-year-old mares and geldings, two other descendants of Vitalis also reached the final and his daughter Vienna was at the top of the Westphalian elite mare show.
His sire Vivaldi, internationally successful with Hans Peter Minderhoud, already looks back on a successful stallion armada of 19 licensed sons in Germany. Vivaldi was himself Reserve Champion of his stallion performance test with 9.0 for walk and canter as well as 8.5 for trot, won the five-year-old Pavo-Cup in Holland, won in 2008 "Hengstencompetitie" (stallion competitions) three times and also won in 2009 the final of KWPN tournament series for stallions, where he received 10.0 for his trot. In 2014, Vitalis dominated the World championships of the six-year-old dressage horses in Verden, where his offspring ranked first, third and sixth. Vitalis' dam Tolivia was the three-year-old mare winner of the province of Limburg/NL. The dam sire D-Day was premium stallion in Oldenburg and approved LK I. He was successful in dressage up to Prix St. Georges. From a breeding perspective, D-Day left traces in the Netherlands and in Sweden. The great-grand-sire Argus was successful in Grand Prix in dressage but also in show jumping and the grey stallion Aktion J who follows in the fourth generation counts as one of the most successful dressage horses of his generation with the Hungarian Gyula Dallos. The licensed stallion Qarco van het Graethemhof , bred in Belgium, comes from this dam line.
---
Stallion Details
Price

$1,250

Born

2007

Color

liver chestnut

Height

16.3 hands

Approved For

Hanoverian, Dutch Warmblood, Mecklenburg, Oldenburg, Rhinelander, KWPN, all Southern German breeding associations, Westphalian

Status

In-Stock, Dressage
Performance Test 2010 Warendorf: Overall: 116.20, Dressage: 129.70, Jumping: 93.98
Breeder: A.J.W.Th. de Crom

WFFS Status: tested non-carrier (N/N)

Schockemoehle Stud stallions require a 1 or 2 dose contract
---
Vitalis : PEDIGREE
Vivaldi
Krack C
Flemmingh pref
Gicara II keur pref prest
Renate-Utopia ster pref
Jazz pref
Darla-Utopia ster pref
Tolivia ster prok
D-Day
Donnerschwee
Rudira
Nalivia
Argus
Folivia
---
Additional Photos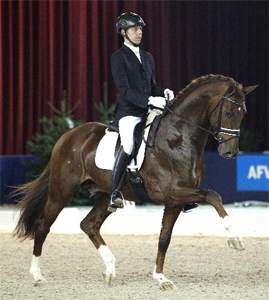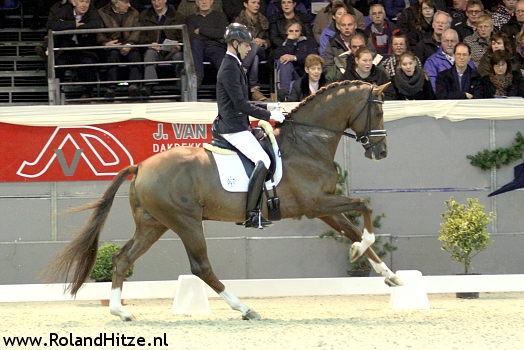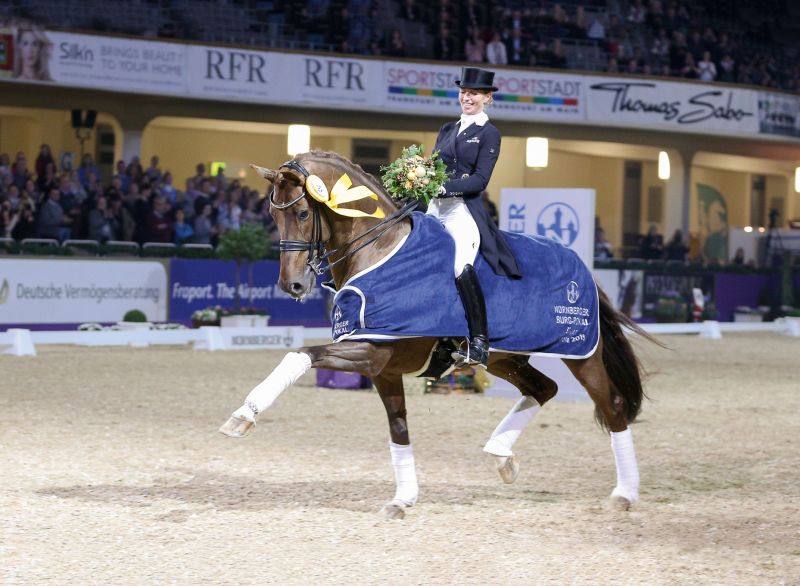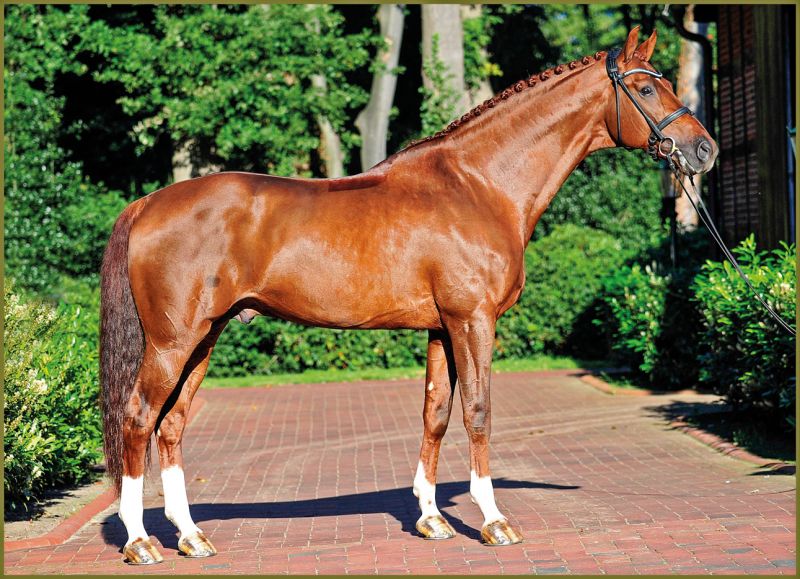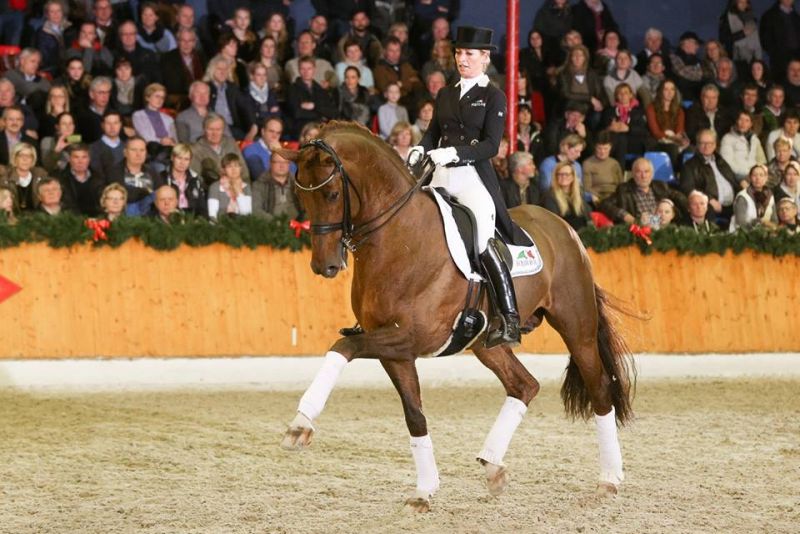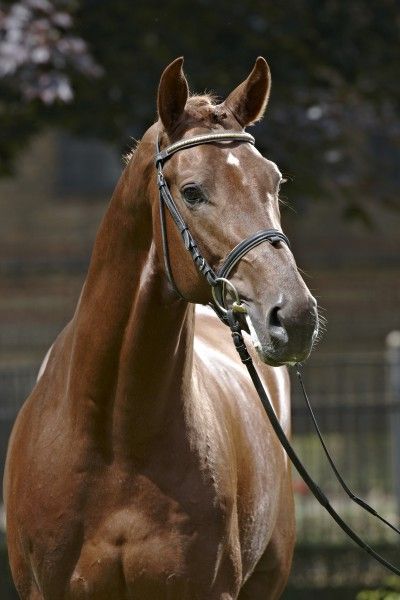 ---