Swedish Warmblood
Zafferano
Zafferano is a charming young stallion with a lovely dappled golden color.  This palomin comes from a strong Swedish bloodline and his dam and grandam are both elite mares. Zafferano was approved for Swedish Warmblood in 2017 with the following review, "Well-proportioned, well-developed. Expressive head, well-placed, well-shaped, arched neck, slightly low withers, deep trunk, long sloping croup. Good legs. Relaxed, covering ground, rhythmical walk. Rhythmical, balanced trot, with slightly straight front legs but well set back legs." Externally, Zafferano is very handsome with a beautiful head, healthy neck and a beautiful body with the correct leg form that only compliments his already stunning palomino coat.  Zafferano has three outstanding gaits with good hind leg movement, a powerful walk through the entire body, an elastic harness and a gallop he presents well.
Zafferano was one of the highest assessed stallions of the 50-day tests throughout Germany in 2016 and was rewarded by 10 for his amazing temperament, 9 in chivalry and 8 in track jumping. As a 6-year-old Zafferano has won MSV B at 74,5 % and has plans to start 7-year classes and Prix St Georges in 2020.
Bernstein blood fits well in Zafferano's pedigree and there are numerous offspring that have produced quality results in both jumping and dressage that are by Bernstein or one of his sons.
Grandam IKEA is A-awarded  and there are a large number of relatives with the merits of the MSV and some in showjumping and dressage.
The stallions in Zafferanos bloodline combine the successful modern European lines with the best Swedish blood. The sire Zaladin MI represents superior Dutch blood with stallions Blue Hors Zack and Jazz mixed with German and Danish blood. Zaladin MI won the performance test at age four, and in 2015 he was in the final of the 7-year-olds in Falsterbo. Zaladin shows substantial talent for collection and competed in the Grand Prix with Jan Brink.
Also on Zaladin's line there are a number of world famous stallions such as Solo's Lantinus, Country Adel and Argentina Tinus-- who in addition to leaving elite offspring in the jumping world, also left high performance dressage horses.
---
Stallion Details
Price

$995

Born

2013

Color

Palomino

Height

16.2 hands

Approved For

Swedish Warmblood, Oldenburg

Status

In-Stock, Dressage
#3rd Place, 50-day Performance Test, 2016: Working spirit 9.5, walk 7.5, temperament 10.0, trot 8.5, gallop 8.0, overall impression 8.5, test riders 8.75

SWB Approval, 2017: 40.0 type, and 8.0 head, neck, trunk, limbs, walk and trot.

WFFS Status: tested non-carrier (N/N)
---
Zafferano : PEDIGREE
Zaladin MI
Zack
Rousseau
Orona
Labial MI
Solos Landtinus
Sabrina Solhöj
Baby Doll 29800
Bernstein 761
Napoleon 625
Bristol Cream 13548
C'est Si Bonne 19127
Chagall 455
Ikeá 8630
---
Additional Photos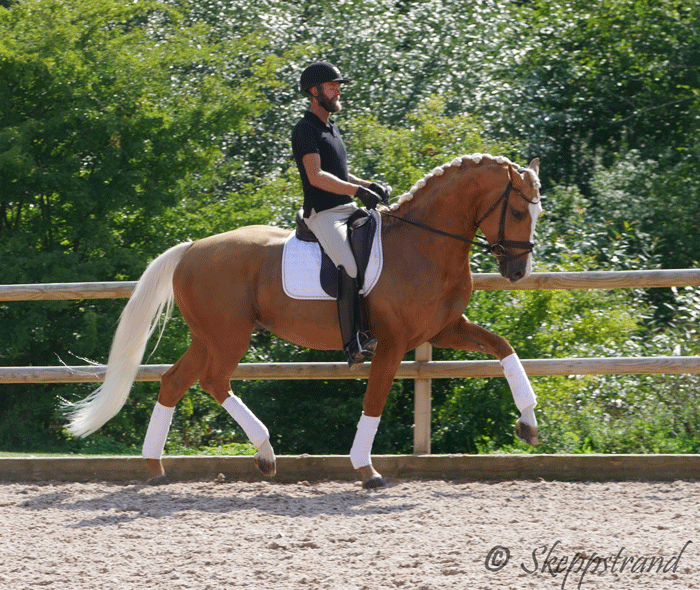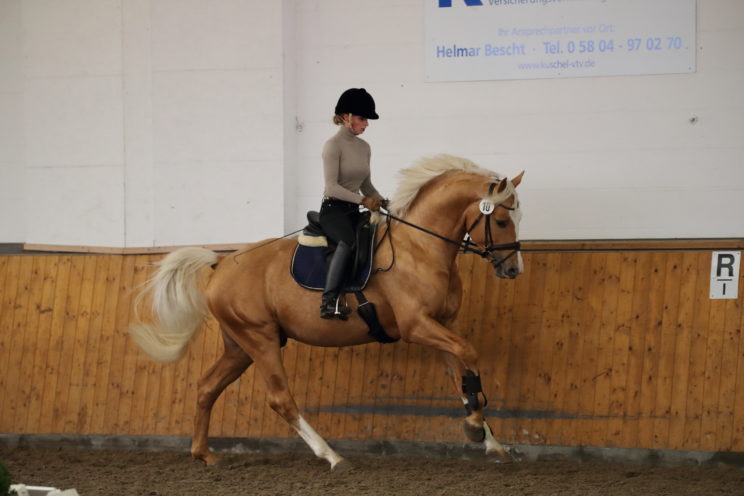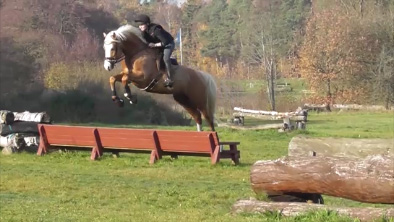 ---