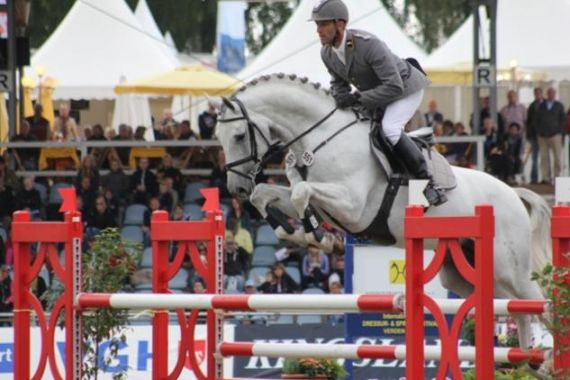 Grey Top is a horse that attracts a lot of attention thanks to his excellent exterior and his outstanding jumping ability.  He truly is stunning in person. This powerful and enormously expressive stallion is characterized by a true-to-type face and an almost perfect frame. His movement escalates and impresses from walk through trot and into the canter. The power of this movement gives Grey Top unlimited potential in the jump. As a talented technician he plays with the heights and is undeterred at any obstacle.  During his performance test this premium stallion convinced through his attitude and willingness to work. These traits helped Grey Top receive numerous first places and further good rankings in young horse jumping tests at novice and elementary level.  
In 2018, Grey Top competed in Verden at the CSI2* Grand Prix, while in 2016 he entered up to the high level and convinced all of his ability with successful placings in the 1.50 meter.
When asked what Hanoverian stallion looked the most promising in a 2019 interview with The Horse Magazine, Dr. Ludwig Christmann of the Hanoverian Verband said  "Grey Top is very promising. He did not jump 1.60 himself, but the State Stud has a disadvantage against the private studs, it is not a competition barn. There is a different task to fulfill, and it is not so easy to combine both. But when you look, Grey Top has produced around 600 foals for us [Hanoverian Verband] for 186 horses that are successful in competition – the oldest can only be on the third level – and there are 64 progeny already at 1.30 and that is a very high number. He has already produced the double Bundeschampion for eventing, Gentleman, that is a fabulous horse."
From the 2019 Hanoverian Stallion Licensing catalog:
"Grey Top is absolutely convincing through his heredity. He is type-shaping in a positive sense, seven of his sons are licensed, first and foremost Gentleman, bred from a Fabriano dam, Bundeschampion of the German Eventing Horse 2017 and 2018. The Hannoveraner Yearbook Stallions 2019 shows 64 horses from his first vintages who were successful up to M level. This applies to the 2018 sports season, in which his oldest offspring were just six years old. In the meantime, many of them have made the leap to advanced (S) level. His permanent rider Heiko Tietze characterizes the impressive grey stallion as follows: 'Grey Top is an absolute reliable horse, and he always wants to do everything right. In the right proportion he is temperamental and honest.' "
Grey Top is the sire of Gentleman, the five-year-old 2017 Bundeschampion in eventing, and GunfirePJ, four-year-old 2016 reserve champion of the Hanoverian Young Jumper Championship. Gentleman reclaimed gold in the 6-year-old Eventing Horse division of the Bundeschampionate Final in 2018.
In the 2013 competition season, Grey Top was in top form and won jumping horse competitions up to the medium level. With scores up to 9.0 he qualified for the Hannoverian Jumping Horse Championship, and multiple times at the Federal Championship.
His sire Graf Top was named Hanoverian stallion of the year in 2011 and carries the coveted blood of Goldfisch II several times in his pedigree. The high level of performance in his genetic makeup, with Graf Grannus, Calypso II and Gotthard, makes him one of the most coveted Hanoverian jumping sires.  Grey Top has additional highly demanded jumping genes through his dam, Silver Dream. Singular Joter I and once again Calypso II, complete the sports pedigree of this young sire.
His offspring also know how to attract attention as Grey Top passes on his jumping ability to his long-legged and true-to-type daughters and sons.  They are notable for their good characters and trainability. Grey Top will play a major role in future breeding.
---
Stallion Details
Price

$825

Born

2007

Color

Grey

Height

17-1 hands

Approved For

Hanoverian

Status

In-Stock, Eventer, Jumper
WFFS Status: tested non-carrier (N/N)
---
Grey Top : PEDIGREE
Graf Top
Graf Grannus
Grannus
Goldmädel
Capries
Calypso II
Geri
Silver Dream
Singular Joter
Silvestre
Ravella
Campanile
Calypso
Goldine
---
Additional Photos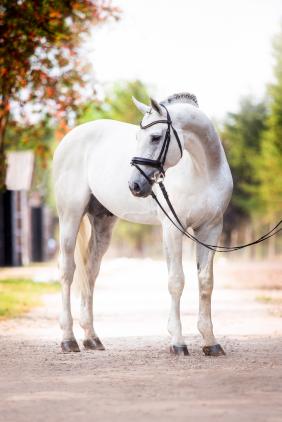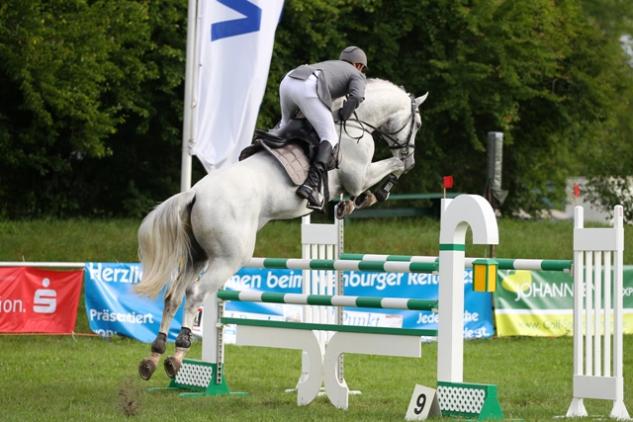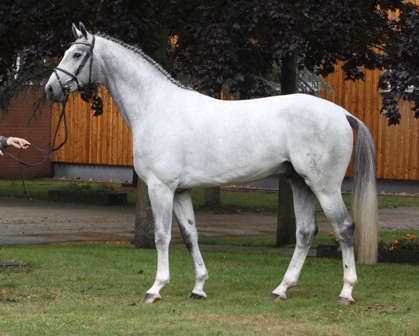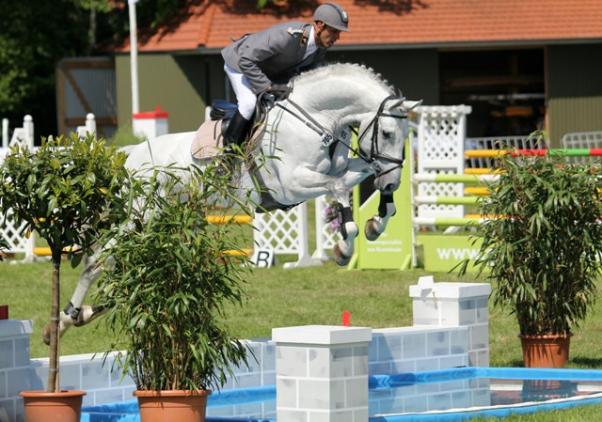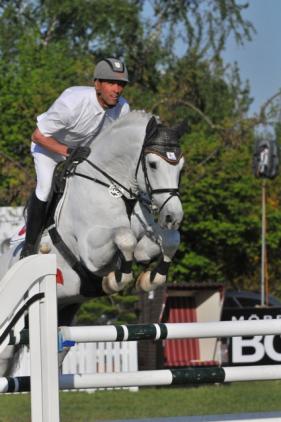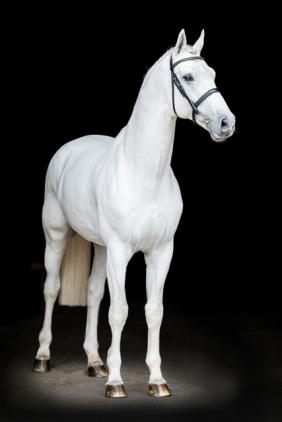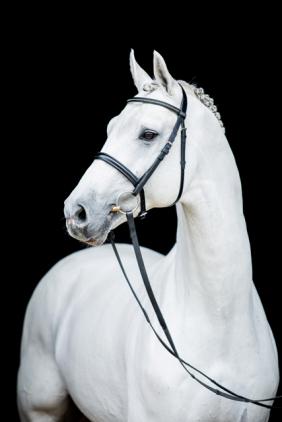 ---