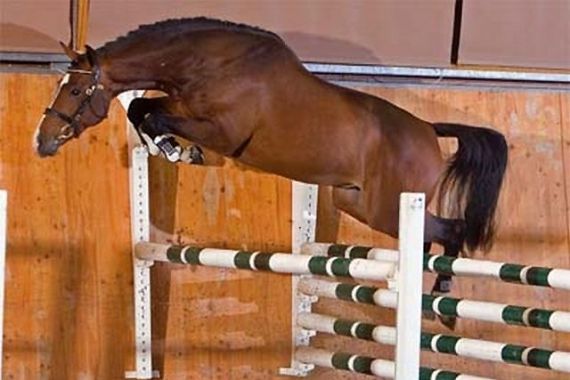 Eight straws per dose with no restrictions or contract. 
Mighty Magic completed an exceptional 30-days performance test in Prussendorf in 2006, scoring highest marks for basic gaits, rideability and show jumping capabilities. He confirmed this fantastic overall impression at his 70-days-performance test in summer 2007. He participated at first tournaments in 2007 and placed in riding horse ability and combined classes.  Following various successes in event horse competitions, he became 2008 Vice Federal Champion of German event horses in Warendorf under Andreas Dibowski, and in 2009 he became Vice World Championship of six-year-old event horses in Le Lion d'Angers (FRA). He crowned his career in 2010 at the same place with the World Championship-title of seven-year-old event horses.
He also boasts exceptional genetics: ¾ Thoroughbred (MYTENS x HERALDIK) and ¼ Holstein; most suited to spirited mares due to his excellent temperament.  As proof of his good nature, MIGHTY MAGIC, ridden by Eugénie Burban, won the Team Bronze at the European Dressage Championships in Oliva, Spain, and were 4th in the FEI Youth Ranking in 2016. He is ideal for well-built mares needing an influx of energy! He passes on height, reach and great expression.  His bloodlines also offer balance and energy in all 3 paces.
Several of his sons have been approved as stallions:
• MR MAGIC, stallion approved in the Oldenburg Studbook,
• MENDOCINO, 
• MAGIC GRAF,
• MAIKY MAGIC, stallion approved in Belgium with the Belgian Sport Horse Registry (SBS) in 2014,
• MAGIC AFFAIR 5, Winner in CIC2* ridden by Nicola Aldinger,
• NAMIBIA 15, CIC1*, ridden by Christophe Gätner,
• MIRACLE, ISO 103 (13), son of MIGHTY MAGIC x SIR SHOSTAKOVICH XX, approved at the age of 2 as Hanoverian stallion in Verden (Germany) in 2014, and was bought by the leading International eventing rider, Michael JUNG.
Some of his offspring include:
• Michel 233 (CCI4*, Will FAUDREE)
• Plenty of Magic (CCI3*, Niklas LINDBÄCK & Therese OLSSON) 
• Miks master C (CCI3*, Maya BLACK (USA)
• Mighty Spring (CIC3*, Heike JAHNCKLE) 
• Namibia 15 (CCI3*, Christian GÄRTNER)
• Mama's Magic Way (CCI3*, Will FAUDREE (USA). 
• Demoiselle Peccau (CCI2*, Mélody JOHNER (ITA) .
• Montano, 
• Power Point M, 
• Mighty Carrera, 
• Figaro des Concessions (CCI4*, Julia SCHMITZ (BEL)
• Sometrick Somewhere, 
• Mighty Mr Magic M (CCI2*, Kai-Steffen MEIER (GER)
• Mini Magic, 
• March Boy, 
• Magic Dreams van't Hulsbos (CCI3*, Wouter de CLEENE (BEL)
• Magic Mick (CCI3*, Merle WEWER) 
• Tremayle, 
• Maks Mojo C, 
• Magic Affair (CCI2* Charlotte FRENZEL), 
• Mighty Match (CCI3* Lara de LIEDEKERKE), 
• Maxima (CCI2* Cristina PINEDO-SENDAGORTA), 
• Tregony III (CIC2*, Samantha HOBBS (GBR)  
• Trebor (CCI1*, Rebecca HOWARD (CAN)
• Manjana 92 ,...
Jumping :
• CSI 1m40 Miss Makadi Bay
• CSI 1m40 Manjana 92 (Sina KOCH-DARGEL)
Mighty Magic is a son of Mytens xx, a breeding stallion that has combined like hardly any other stallion the marvelous thoroughbred type with the popular warmblood qualities, rideability and show jumping potential . Mytens xx presented a spectacular leg and back technique as well as a tremendous scope over the jumps. 
Dam's sire Heraldik xx was one of the best refining stallions in earlier breeding history and very popular all over Germany. He was of special interest for breeding event horses. The granddam Fiona VIII was bred to Contender and gave birth to the advanced level jumper Conradin 3 with whom Janne-Friedericke Meyer started to participate at international competitions in 2005. Heraldik xx can be frequently found in the first generations of successful international event horses.
Lavall I carries a high percentage of thoroughbred blood as well. At times, he successfully competed for the Danish national team. Together with Ladalco, the winner of his stallion licensing, again you can find an increased thoroughbred influence further down in the pedigree via Ladykiller xx, Sacramento Song xx, Anblick xx and Waldenser xx. And that's not all: In fifth, sixth and seventh generation, there are Mephisto, Laertes and Cornett, three more representatives of the Manometer xx, Ladykiller xx and Cottage Son xx –lines. There is almost 90% thoroughbred blood in Mighty Magic's pedigree.
---
Stallion Details
Price

$1350 / 8 straws

Born

2003

Color

Bay

Height

16.2 hands

Approved For

Hanoverian, Holsteiner, Oldenburg, Mecklenburg, Westphalian, Rhinelander, Swedish Warmblood, Zangersheide, Selle Francais, and southern Germany studbooks

Status

Eventer, Hunter, Jumper
Stallion Performance Test, Prussendorf, 2007: Overall: 117.76, Dressage: 118.03, Jumping: 116.63
---
Mighty Magic : PEDIGREE
Mytens xx
Spectacular Bid xx
Bold Bidder xx
Spectacular xx
Photographic xx
Hoist the Flag xx
Talking Picture xx
Neika I
Heraldik xx
Caramel xx
Heraldika xx
Fiona VII
Lavall I
Uljana
---
Additional Photos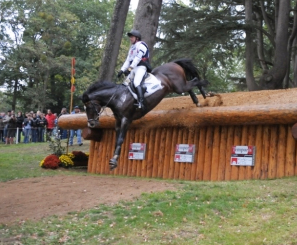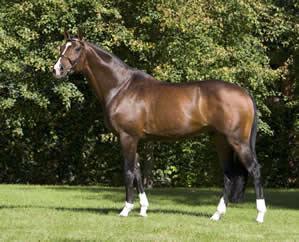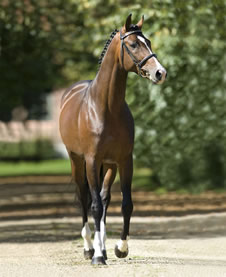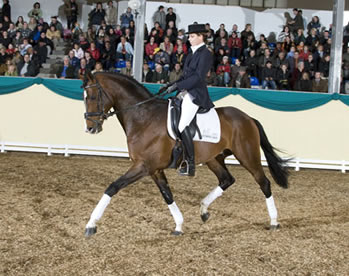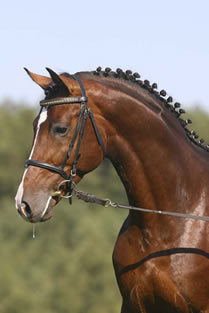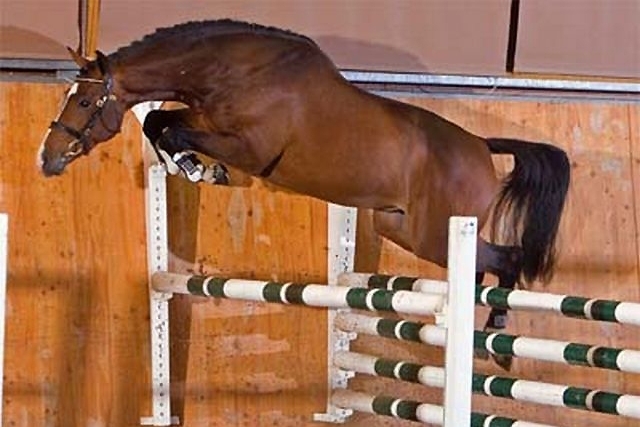 ---