Danish Warmblood
Blue Hors St. Schufro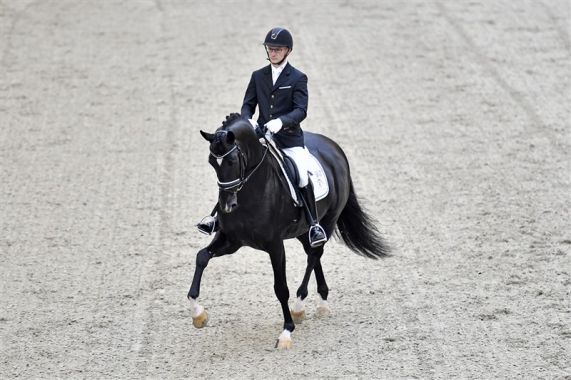 Blue Hors St. Schufro is a Danish Elite stallion dcharacterized by a fantastic temperament and fire that can be turned on and off in a matter of seconds, and energetic, spacious and supples gaits with excellent mechanics and uphill tendancy. He has an unmatched willingness to perform and these strengths can be seen to a great extent in his offspring. "St. Schufro is best suited to leggy, true-to-type mares with good front ends and good frames, and in return he endows his offspring with enchanting movement and great rideability", says Martin Klavsen. He is an international star in the making and a champion in international Inter I.
Despite his young age, Blue Hors St. Schufro has lived up to his breeder's expectations with a very interesting first crop of foals that possess extremely impressive movements. St. Schufro participated in the qualifier of the championship for 4-year-old dressage horses at Vilhelmsborg and won it in style with the highest score in 2015. The grades were; trot 9.2 - walk 9.8 - canter 9.8 - rideability 9.5 - capacity 9.8 - total 9.62. In 2016, there was another victory at the qualification competition in Bogo – this time for 5-year-old horses.
He achieved great success in 2018 in his début with his new rider Nanna Merrald in both national and international competitions in the classes MA, Prix St. Georges, Inter 1 and II and now at Grand Prix. A victory in Brande with a score of over 80%, followed by a national competition début in Esbjerg in January 2019 with a victory in MA1 and 2nd place in St. George. "He is a real pleaser and a great pleasure to work with every day", says Merrald. "St. Schufro is fully concentrated on his work and his rider, and possesses unlimited talent. He is the sweetest, quietest and easiest stallion to deal with, and he has a very special ability to give a top performance."
St Schufro's visibility increased  since he began his Grand Prix career in 2022 with Nanna Merrald Rasmussen, with a Nations Cup victory in Falsterbo and second place in his first World Cup appearance in Vilhelmsborg and he is likely to be Nana's choice for the 2023 European Championships.
St. Schufro was premium stallion at the Hanoverian licensing in 2013. With his superior performance he won the audience during the licensing, making him the most sought-after stallion of the auction. St. Schufro has three very good gaits, moves light-footed and has an impressive freedom of the shoulder. In 2017, in the same location, a victory was claimed with a score of no less than 9.36.  In the fall of 2014, he did a very good 35-days performance test, which he won with 864.5 points. He got the top mark of 9 for his canter and a 9 from both the judges and the test rider for his rideability.
His sire, St. Moritz Junior himself was premium stallion in Verden in 2009. He completed a very good 30-days performance test in Neustadt-Dosse and qualified for the German Bundeschampionship with scores from 8.88 up to 9.25. St. Moritz Junior's dam, Wie Princess is also the dam of the stallion Finest, which was premium stallion in Verden in 2013.
St. Schufro's dam sire is none other than Blue Hors Don Schufro. In the third generation, the pedigree contains the genes of the stallion Atatürk, which produced outstanding horses in both dressage and show jumping. The dam line of St. Schufro produced several licensed stallions: Aderlass, champion stallion in Hanover in 1971, Lindberg, Campbel Czech as well as several successful advanced level dressage and jumping horses. 5-y-o World Champion, Lyngbergs St Paris, was one of the four by St Schufro to qualify for Ermelo. He was also the sire of the four year old winner, St Athletique, and the four year old Swedish champion, Skyline To B.
St. Schufro made a strong impression in breeding from an early age and delivers offspring each year which perform particulariy well at shows and at auctions by virtue of their exceptional gaits. One of his sons was licensed and sold for no less that 400,000 euros at the 2018 Hanoverian licensing in Verden. That same year, sons were licensed in Germany and Sweetness, a daughter from his first crop of foals, was awarded the breeder's medal in silver at the Danish Warmblood's Elite Show after achieving one of the highest mare performance test scores nationwide.
Under Silje Bakken at the Blue Hors Dressage Championship for four-year-olds in 2019, St. Schufro daughter Sweetness scored 8.5 overall with 9 in canter and potential. The pair was again brilliant at the DRF championship finals at Blue Hors, where Sweetness was the best Danish Warmblood, winning the qualification and finishing 9th. Three St. Schufro offspring-- Sweetness, Sporty Spice and St. Souci--have qualified for the Danish Warmblood Young Horse Championship in March 2020 in Herning.
---
Stallion Details
Price

$925

Born

2011

Color

Black

Height

16.2 hands

Approved For

Danish, Swedish, Hanoverian, Oldenburg

Status

In-Stock, Dressage
Only passes brown or black color to offspring
WFFS Status: tested non-carrier (N/N)
---
Blue Hors St. Schufro : PEDIGREE
St. Moritz Junior
St. Moritz
Sandro Hit
Dondola
Wie Princess
Wie Weltmeyer
Princess
Dorina
Blue Hors Don Schufro
Donnerhall
Fiesta
Asta
Atatuerk
Minolta
---
Additional Photos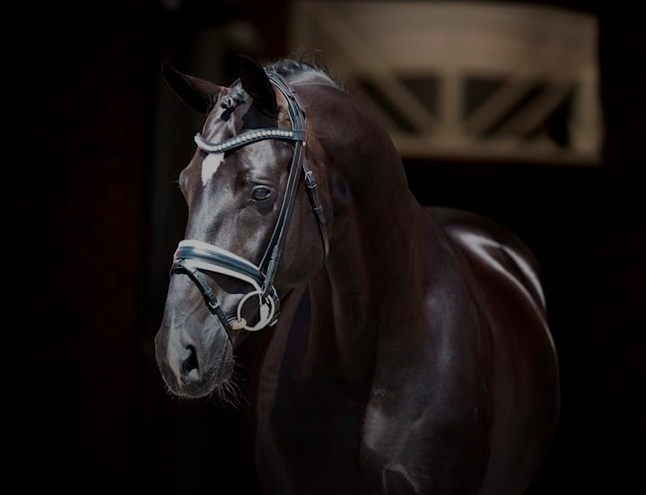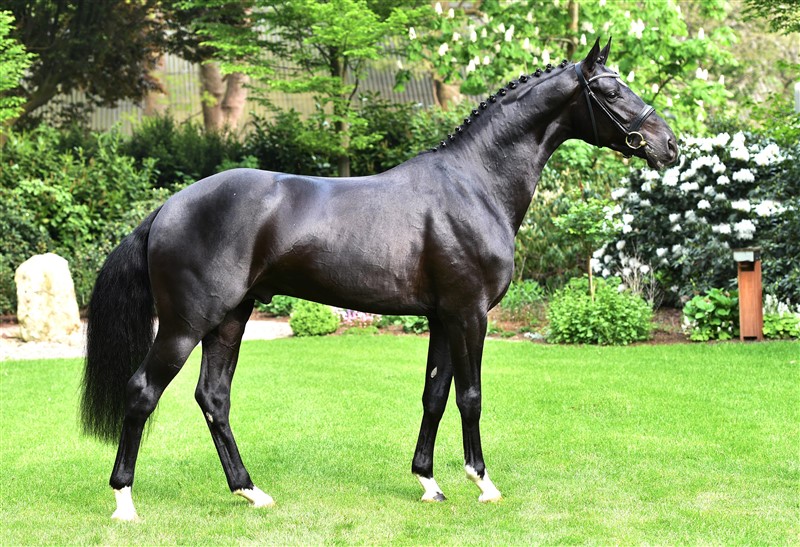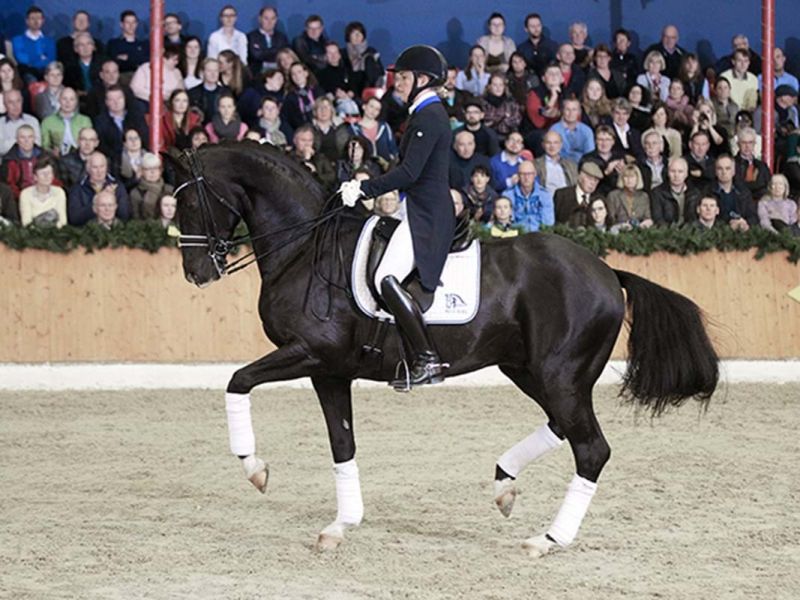 ---