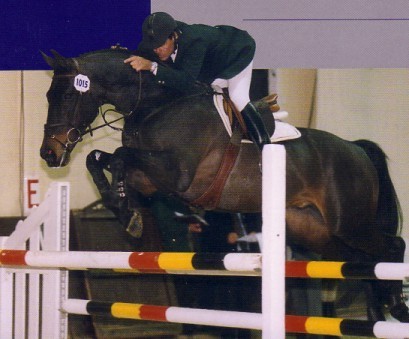 Jaunty Daredevil
Jaunty Daredevil possesses a great deal of power for the jump. He has achieved many top placings in the USA under the saddle of Michael Endicott. His sire, Galoubet A, a great international jumping victor, entered into the Haras in 1981. As a sire he produced many national and private stallions. Among the private are Quatoubet du Rouet, Quiniou, Quintolet du Parc, Caboulet du Rouet, Quédro du Paulstra, Quick Star and the offspring of Quaboulet; Si Jolie II, Sorian, Sieur des Saline, Bora Bora, Caluma de Rhuys, Eisha For Ever and Fue du Priolet.

The maternal grandfather, Lucky Boy xx, has long headed the list of winning sires, notably with Calypso, The Freak, Van Gogh, Windsor and many others. Jaunty Daredevil's dam, Adith, has competed in Grand Prix under the saddle of Hap Hansen.

His maternal lineage has also regularly produced good dressage competition winners.