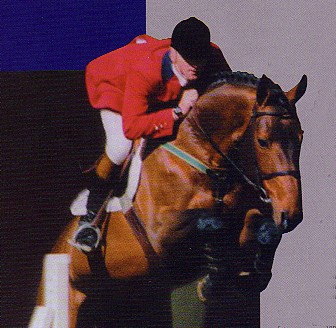 Easy Boy
Easy Boy's sire, Nidor Platière, was a leading sire. His maternal grandsire, Narcos II, is counted amongst the best sires. His dam, Very Nice Showgirl, is a prestigious mare and Easy Boy was her first foal, followed by Futurixe (ISO 126) ,Gentle Boy, a stallion, Hyper Boy (ISO 119) and Ixelle, excellent classified (double without faults at Fontainebleau 2000) etc. Her dam Ixe is still alive and beautiful at 28 years old. She has now had 13 foals. In 2000, four of her fillies figure in the top 20 of the best mothers of great horses. Risky Showgirl (ISO 123), Showgirl Taxi (ISO 125), Unixe Showgirl (ISO 134) and Very Nice Showgirl (above). Three of her sons or grandsons achieved excellent prizes in 1999: Double Ixe was ridden in Rome under Mexican colors, Devil Horse--14 on 14 on four years--after several classifications in Grand Prix. Easy Boy
has many performances of note, including:
At six years--11 victories in the Classic Cycle out of 16 appearances and fourth of six year olds at Barbizon, and placings at Palaiseau and Lyon.
At seven years old: regularly classified or winner in A2 and A1 Grand Prix, at Rheims, Tours, Troyes, Compiègne, Béthune, Nancy, Clermont, Fontainebleau (Championship of France), Lyon and others.
At eight and nine years old Easy Boy was ridden by Stéphane Delavau in both CIO and CSIO - A1 and Grand Prix. This partnership will continue continue in 2002. Classified in practically all their appearances they were on the podium at Fontainebleau, Courneuve, Rheims, Metz, Le Mans.
They won in the CSI (A) in Royan and Easy Boy was winner of the trophy for the best horse of contests and style at Bethune.
Entered into the Haras in 1999--24 mares foaled, 81 in 2000 and 72 in 2001. The first foals are notable for their framework and their exceptional characters.