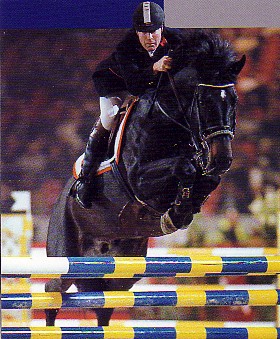 Tornado FCS
During his first season of participation in competition, Tornado FCS qualified for the "Fox -Hunter Regional Final," and placed second in the Final at Wembley. Because of his exceptional talents, three different horsemen requested to ride Tornado FCS in 2000. Gary Gillespie won the honor and was victor at the RHS and a finalist in June at Hickstead.
Tornado FCS earned the National Championship of seven year olds under Bill Twoney. Michael Whitaker rode this young horse, already crowned with several international successes, in competitions such as Calgary and Dublin. The duo achieved further acclaim when they placed second in World Cup qualifications at Malines and won the Masters.
Tornado FCS is a son of Darco, a combination of two excellent Belgian stallions, Lugano and Codes. Darco has achieved several competitive records in his career, such as the Champion of Belgium--five year old, was victor of the "Volvo World Cup" in London in 1988 and at Hertogenbosch in 1989. He was sixth at the Championship of the World in Stockholm, 1990, seventh at the Barcelona Olympic Games in 1992 and second in the richest Grand Prix in world in Calgary. Darco has produced promising stallions such as Fedor and King Darco, that participated in Atlanta's Olympic Games under the saddle of Ludo Philipaerts. He has produced many other international champions such as Parco, Otterango and Non-Stop. His grandfather, Lugano, has an exceptional record as a sire, and produced La Ina, who was ridden by Peter Charles and won the European Championship in 1995.
The dam of Tornado, Biejelza, stems from the fabulous Ramiro, who has produced many international competitors and top stallions, and has been judged a number one sire of international championship jumping stallions. One of Ramiro's best descendants is the exceptional Ratina Z, winner of the individual and team gold medals at the Olympic Games in Barcelona, Spain. She was also winner of the World Cup in 1993, Olympic team gold in 1994 and 1996.