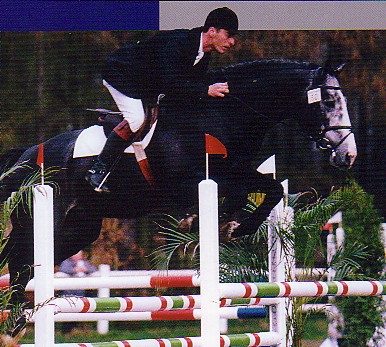 Qarco van het Graethemhof
Parco is a particularly attractive son of the gray Darco. His movements are remarkable, and he possesses enormous energy. At free jumping he expresses himself freely.

Qarco stems from the crossing between legends of equestrian sport. Darco's exceptional career (Grand Prix, Cup of the World at London and 6th at Hertogenbos, at the championship of the World in Stockholm, seventh place at the Barcelona Olympics.

Darco transmits his jumping qualities exceptionally well--Heidi, Hydra, Jessy Utopia, King Darco, Darco -Showgirl, Maeva, Isaac, Jolly Boy, Fédor to mention a few. Quarco's dam, Amour, is an elite mare by Uniform, a stallion at the top level of the KWPN, and out of Olivia, an excellent daughter of Miller's Grey xx (one of the best lineages of the KWPN).

The crossing of Uniform, Synfonie and Concord bloodlines have produced predictable results.

Qarco van het Graetemhof has competed well at the young horses Classic Cycle, and has been placed first on several occasions, his foals are winning in model and in appearances (Battice Cork, Aix la Chapel,).