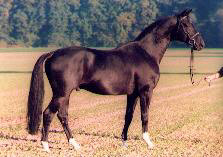 Kostolany
Kostolany was the champion at the Trakehner stallion selection at Neumünster in 1987. He has a 2002 FN breeding value for dressage of 121 points. His breeding value with the Trakehner Verband is 120 points. These indices make Kostolany one of the best sires of the Trakehner association to come along in many years. He combines his great talent for jumping and dressage with a wonderful temperament and character. He is truly a stallion with the temperament of a family horse and the production ability to make horses for professionals. Kostolany himself was successful up to Prix St. George. He is the sire of eight approved stallions, such as champion sire Gribaldi (two of his sons won second reserve champion at Neumünster 2000 and 2001), premium sire Tolstoi (sire of Farinelli and Freudenfest-- both champions at the Trakehner stallion selection) and premium stallion Silvermoon (his son Cadeau was second reserve champion at Neumünster 2001).
Kostolany is also well known for successful daughters like Carara, Kandra, Chamonix, Herzlani and others, who are successful at broodmare shows, mare performance tests and national championships. On the occasion of the broodmare show Niedersachsen 2002, his daughters Vis-a-Vis and Kassiopeia were honored with the 1b-prize. Every year Kostolany has many champion foals. His offspring are successful in all kind of classes, from basic tests to Grand Prix Special (Shannon TSF, Showmaster, Silvermoon, Gribaldi, Pretty Woman, It's Lieschen). His daughter Amazing won the Youngster Challenge Cup of show jumping horses and won the title of best young show jumper at the Trakehner Bundesturnier twice. Kostolany son Babados was Trakehner eventing champion. His son Karlos won the bronze medal in the five year old event horse test at the Bundeschampionate 2002.
His son Shannon TSF won the silver medal at the dressage championship at Niedersachsen 2002 and was fifth at the German Dressage Championships, where he received his first World Cup points.