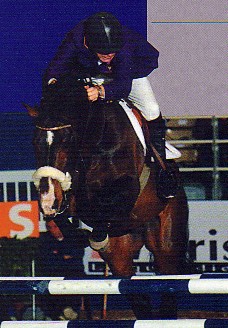 Handel II
Handel II is a very imposing horse with a lot presence. He presents himself with elegance and balance and has enormous power in his hind quarters.

He is currently on the international circuit under Michael Whitaker.

Handel II c

lassified third in the 2001 final of the World Cup. In category A-- jumping stallions, Handel II has achieved: the Grand Prix de Willems, the Grand Prix of Towerlands, Championships of Toggi A&B, the Grand Prix of the Anglo-European Studbook and the Championship of the "Ladies Master 1998/99."

With Michael Whitaker, he has placed well in several great classic international Grand Prix, notably, third at Dorthmund, third in Berlin, third at Hannover, fourth at Olympia London and fourth at Zurich.

Handel II has done equally well in several great classics including Paris, Stutgard, Geneva, Porte de Versailles and Hamburg. Handel II has been recognized for competing without fault in the Nations Cups at Rotterdam and Dublin.

Handel's sire, Wolfgang, is a son of the legendary stallion Farn, son of Fax. Farn's name is renowned by the breadth of his descendants competing at international level. Among them are Nimmerdor, Put Optie

,

Odin N, Shefield, Black & White Design, Opstalans Pasquines

, Trust Me, Optibeurs Investment,

Olympus and Talman. His grandsire, Ulf, was the first stallion to receive a 9 in training and 9 in character and appearance during his 100-day test. Le Mexico, his great grand sire, is known for his phenomenal ability over obstacles, a quality that has been transmitted to his descendants. Handel's first crops have recently begun to participate on the competition circuit, and are noticed for their great ability and natural talent, and are receiving much attention in European jumping circles. Get in early on a stallion who's on his way to the top.