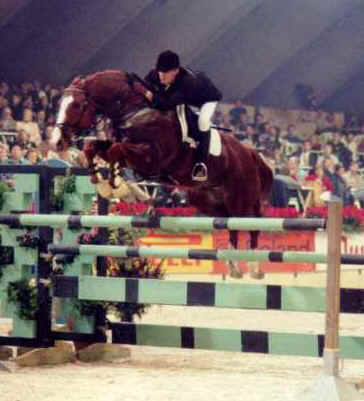 Grignoteut de la Fontaine
Grignoteut de la Fontaine is a stallion who has proven himself an elite performance horse and sire, and also has the appearance for dressage, have received a note of A for his conformation. His performances include:

Best stallion of his generation at four, five and six years, several international classifications : Filot (2nd & 7th), Comes (9th), Grobbendonk (10th), Diest (11th), Lumen (9th), LeTouquet (10th), Welkenraedt (5th), Victor of the Puissance de Malineson 2.05 m in 1999, 7th of 55 stallions in the Sire of the World at Lanaken in 2000.

He also has many national classifications, notably:

Grignoteut's descendants include Leader du Werfat , elite at four years, fifth at the Circuit du Testage sBs at five years, exported to France at six years.

Lisigri de la Fountain, fifth at the Circuit duTestage at five years, second on same circuit at six years, fifth at the National championship at Gesves. Magus de Fontin, Vice-Champion of Europe of three year olds at Libramont, completing seven courses without fault in the Classic Cycle at four years.

Mastuvu des Fosses, second at the Circuit duTestage sBs at four years, at five years 10th at the championship at Gesves (meilleur sBs).

Messaline de Fontin, first at the International of models NIVELLES in 1999.

Orquidée de Tribomont, selected for the European Championship at Libramont.