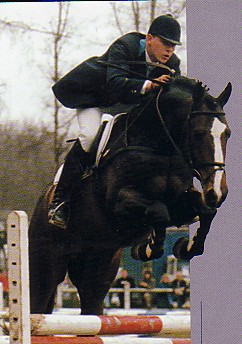 Gratianus
Gratianus stems from the well known lineage of Oesterdihoff, that has produced many jumping horses. He also draws from the blood of contest millionaires of jumping such as Grannus, Pilot, Weinberg, Adlerorden and Radetzky. Weica, his grand dam, is a unique mare, competing in tests of 1,40 m and has produced international horses such as Pour la Merit, Piroschka, Co-Pilot I, Pro-Pilot II (Pusshkin) and Phantom. He was first at his test at Medingen, with scores of 8,5 and 9 for aptitudes of the jump.

Gratianus was victorious

in the Classic Cycle for stallions of four years old in 1996. At seven years he was seventh in Gesves, third-third-and tenth at Torhout, as well as completing several doubles without fault in the Classic Cycle.

In 2001 he continued his international career under the saddle of Dirk du Meersman, Caen, Brussels. Descendants have been well-noted in free jumping competitions for young horses (winners at Nieuwvliet, Malines) and doing well in model and appearance tests.